Florence, Oregon Public Works Operations Facility Groundbreaking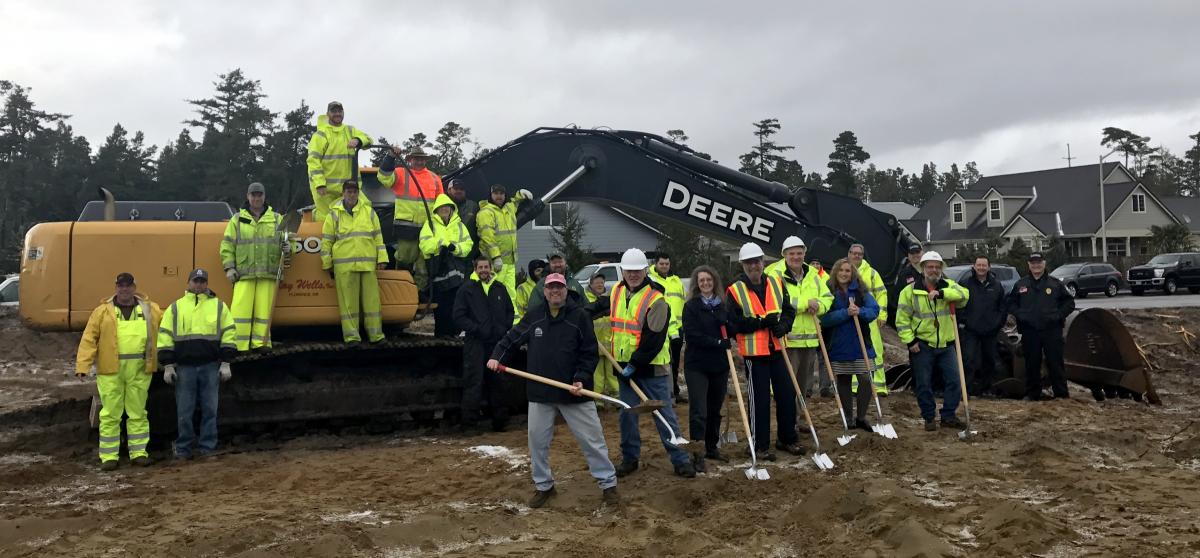 On Monday, January 9, 2017 at 9:30 am the hail and rain let up for a few minutes to all the City Council and Staff an opportunity for a  groundbreaking ceremony for the new Florence Public Works Operations Facility!
The City Council and City staff were joined by representatives from 2G Construction and Ray Wells for the groundbreaking of the new Florence Public Works Operations Facility located at the southwest corner of 27th Street and Kingwood. Construction is scheduled to start today by contractor 2G Construction out of Eugene.
The City of Florence will improve the 2.78 acre vacant lot at the southwest corner of the intersection located at 27th Street and Kingwood in the Pacific View Business Park. The Public Works Operations Facility will include a 5,942 square foot office building, 7,754 square foot maintenance building, and associated site improvements. The Facility will incorporate secure storage and parking for Public Works equipment, materials, and vehicles; provide better access to the Municipal Airport; improve customer service opportunities; and provide demonstration features for the public such as stormwater facilities, a green roof, and energy efficient elements.
Click any thumbnail image to view a slideshow
http://www.ci.florence.or.us/publicworks/public-works-operations-facility-groundbreaking